Our Beds
Ergoline Excellence 850
With 20 high pressure UV units in the canopy the Ergoline Excellence 850 provides the ultimate power for an intense and long lasting tan combined with the finest in comfort features in tanning beds. Just as in luxury cars, users can set a preferred temperature ranging from 68 degrees to 86 degrees F. The Temptronic climate control system keeps the temperature constant throughout the tanning session. The Body Wave light base acrylic, with it's double bend shape, makes tanning a truly relaxing and comfortable experience in any position.
12 Minute Maximum Exposure Time
Emits almost all UVA rays (tan rays)
High pressure facial, neck and shoulder tanners
Voice guided control system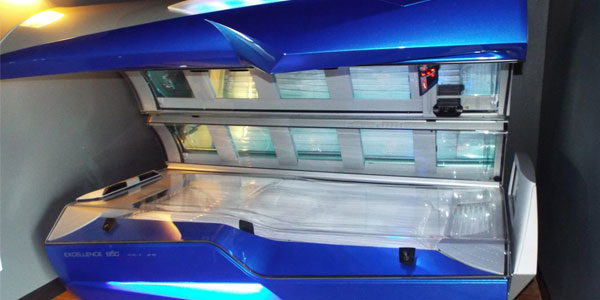 ---
Ergoline Affinity 500 Turbo
With its 46 Turbo Power UV lamps and 3 Ultra Performance facial tanners, the intermediate model of the Affinity Series provides an excellent tanning result. The wide new Body Shape acrylic, with an integrated headrest, variable footrests and comfortable armrests, ensures a relaxing tanning experience from beginning to end. Standard AC Plus air-conditioning keeps customers cool and comfortable even during the longest tanning session.
12 Minute Maximum Exposure Schedule
43 Ergoline VHP Turbo Power 160-Watt UV Lamps
Reflector neck tanner
Optional: 7 Spaghetti Lamp 25-Watt Shoulder Tanners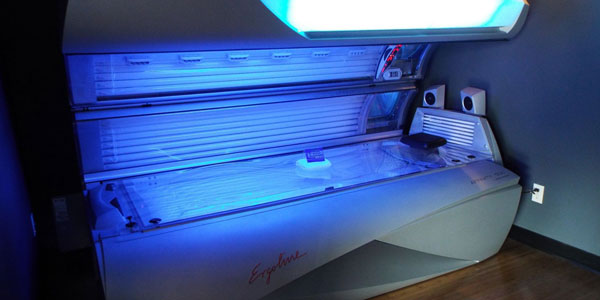 ---
Elite Standup
This is the incredible bronzing lamp standup. It boasts 56 unique lamps of 200 watt power. The lamps are specialized to provide incredible UVA output with just the right amount of UVB stimulation. With incredible ventilation and a lightening fast 8 minute maximum session. This is quick and remarkable way to get great long lasting color.
8 Minute Maximum Exposure Schedule
56 x 220w 2m Lamps Wired 70 Amp Single Phase 230V
Lumiere Photo Therapeutics LED red light therapy luminous facial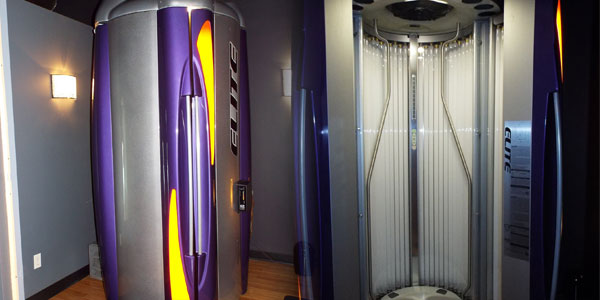 ---
Soltron Kiss
Hot and tingling, just like butterflies in your stomach: the XS-35 KISS in the trendy KISS design will entice you to pucker-up wiht 3,400 watt PSR facials as you tan in a bed of 32 tempting Soltron VHP 15 or VHP 20 Super Power lamps. Its performance is strong enough to make anyone - even a frog - feel like royalty! The combination of durability and the Kiss's powerful signature foot fan will blow you away! The crescent tanning shell gently embraces your body with optimized UV geometry, making sure that every spot on your body receives an even tan.
15 or 20 Minute Maximum Exposure Schedule
32 Soltron High-tech Lamps at 120 Watts each
3 Facial Tanners at 400 Watts each with PSR Technology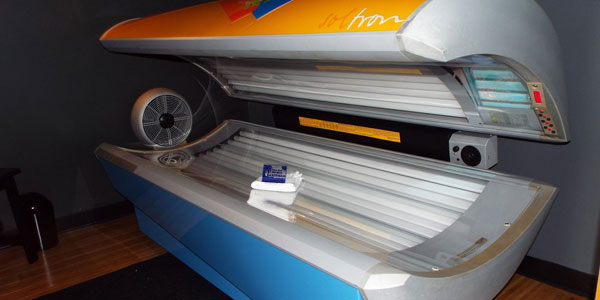 ---